High Street, Amblecote, Stourbridge, West Midlands DY8 4BX
17th March 2020 : Please click here for a formal communication concerning the ongoing Coronavirus situation in the UK, from The Methodist Church in Great Britain and the Vale of Stour Circuit.
Additionally, the Links tab on the Vale of Stour website contains useful links to Church, Worship, Health, Advice, and Well-Being sites.
We trust and pray that these links may prove helpful, beneficial and a source of comfort for you in this uncertain time.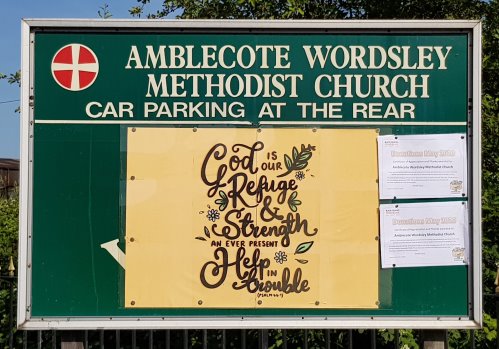 ----------
Amblecote Wordsley organised a collection on Friday 15th May for the Black Country Foodbank, and we are proud to display our certificate above.
Thanks to everyone in the circuit who helped us raise such a wonderful amount, and especially thanks to June Miller who came up with the idea, supported by Rev Josephine and Nathaniel.
----------
Our Mission Statement
We at Amblecote Wordsley Methodist Church seek to share the love of Jesus Christ with everyone through our worship, prayer, service, and care for our community; supporting and working for understanding, justice and peace throughout the world.
Minister
Sunday Services
Regular Activities
Weekly Activities (Term Time only)
A/W Kidz (10:30am Sunday, during the service)
Active Seniors (Monday)
Toddlers (9:30am Tuesday)
Tiny Talk (10:00am Thursday)
Baby Ballet (9:00am Friday)
Fortnightly Activities
Tea & Natter (2:00pm alt Tuesdays)
Endeavour (Bible Study - 7:30pm alt Thursdays)
Wives Group (7:30pm alt Thursdays)
Other Activities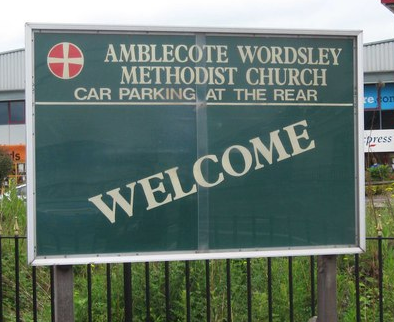 ---
Please also see our page on the Vale of Stour Methodist Circuit website.