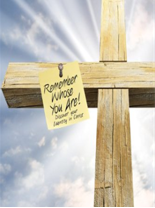 Dear Sisters and Brothers in Christ,
This is a month which is full of Remembrance Festivities.
A Jewish survivor of a concentration camp during WW2, Elie Wiesel, wrote this,
'For memory is a blessing: it creates bonds rather than destroys them. Bonds between present and past, between individuals and groups. It is because I remember our common beginning that I move closer to my fellow human beings. It is because I refuse to forget that their future is as important as my own. What would the future of man be if it were devoid of memory?'
Wiesel sees himself as a channel of memory. For him, remembering his history is like his calling; to be the defender of memories and stories of the people. For Wiesel, remembrance offers hope to his generation and the future generations.
Christians remember our celebration of All Saints' Day (1st November) which eminates from a belief of the spiritual bond between those in heaven and on earth are indeed One Body in Christ. Hence, to remember is to heal our present wreckage, to rescue the lost and rejected.  The question is: what does it mean to remember for us, beloved in Christ?
As Christians, we know that remembering is one of the core themes in Scripture. God understands us often in danger of forgetting our story and losing our memory of who we are and to whom we belong to.
Paul makes the memory connection as he said, 'For I received from the Lord what I also passed on to you…' (1 Corinthians 11:23) that we are to 'do this in remembrance of me [Christ]' (1 Corinthians 11: 25). So, to remember Christ is to practise our memory about Jesus' way of life and His teaching.  Remembering Christ is to have our identity through our memories of Him.
Forgetting doesn't take special effort. The challenge for us is: remembering Christ requires our discipline to intentionally and deliberately practise our memory of Jesus Christ in our everyday life. 
So, beloved in Christ, remember to remember to live a way of life that is Christ like as we 'do this in remembrance of me [Christ]' (1 Corinthians 11: 25).
Josephine Soon
October 2019
Elie Wiesel, From the Kingdom of Memory: Reminiscences (New York: Schocken Books, 1995), p. 10.